About US
Established in early '96, Stardust Entertainment & Promotions a dynamic entertainment company focusing on LIVE Radio / DJ / Karaoke and Band entertainment with broadcast TV and Radio streaming media technologies.
Stardust Radio Network "where technology & talent meet"
On Sept 11th 2001 Everything changed.....
Riverside Iowa , home headquarters for Stardust Radio Network 1690AM
A vision problem may have kept me from enlisting in the military, but it hasn't stopped me from supporting the troops. From a tiny room in Riverside crammed with an array of computer and sound equipment, Myself and other volunteers scattered about the U.S. spend their own time and money providing support to troops, military families and veterans.
We engineer and coordinates a number of Internet talk and news shows, along with airing new music from independent artists. Stardust Radio Network has no political agenda other than to bring home the stories of soldiers stationed in Iraq and Afghanistan and to provide information for them and their families. The Internet Web site offers 10 hours of live talk shows and a continuous stream of music.
Past broadcasts can also be called up and download HERE
From Florida, Judi Burns along with Jeff Showalter host "United We Roll," where overseas military members relate their everyday experiences. It airs every Tuesday from 2 to 4 p.m. Each soldier is interviewed for approximately 30 minutes.
Firebase Network is from 6 to 7 p.m. Sundays with Rick Townsend, who as a veterans' advocate examines and critiques veteran-related services.
Callers to the live talk shows can call a toll-free line at 877-213-4329
or in the Riverside area at 319-648-5143.
Stardust Radio Network 1690AM studio line: 319 648 3201 Fax 319 648 3101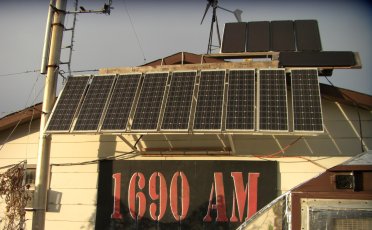 Stardust Entertainment & Promotions © 1996 1997 1998 1999 2000 2001 2002 2003 2004 2005 2006 2007 2008 2009 2010